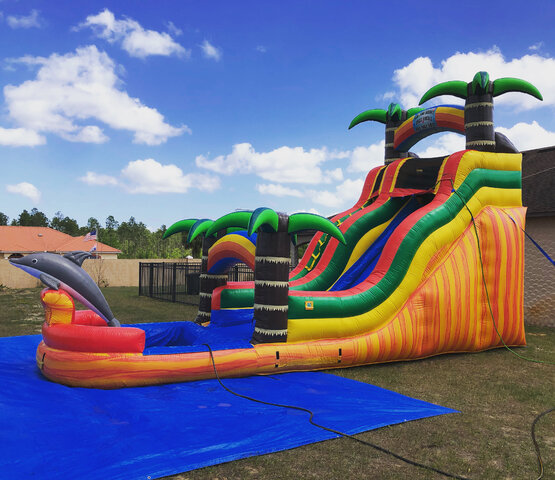 Taste of Paradise - 20ft
Setup Area: 40ft x 17ft x 20ft




Water Slide Rental - Taste of Paradise  Our NEW "Taste of Paradise" water slide! Wow, this slide is a real eye catcher! The yellow, orange and green marble material is top quality and beautiful to see. This is Fun Times favorite fun in the sun unit for water slide rentals for many reasons! This unit includes top safety features such as: front loading steps, netting atop the slide and an pool bottom to help soften the landing when you splash into the awesome pool! Don't for get to add our snow cone machine, it's a perfect fit on a hot day with this water slide!  Please note we do not supply the water hose and will being using a hose that you supply. Â
Here is a 1 Minute Set Up video of The Taste Of Paradise Water Slide
Our Taste or Paradise Water Slide Rental is 100% a crowd favorite and one of our more popular Water Slides. The bright Orange and Yellow colors really set it of for a bright and energetic party. There is a pool at the bottom for a big splash landing, we recommend this slide for kids 3 and up to Adults!

Required is a basic outlet without anything else plugged in, we provide a 50' extension cord and will not use customers cord so please keep that in mind when envisioning your set up. Our water slide shave leader hoses hanging off the side but customer must provide the hose from their water source to our leader hose.

Riders must go down 1 at a time and wait for the rider before them to move before going down. If Heavy winds or lightening then all participants must be removed from the slide, the water shut off and the unit unplugged, there is also a Velcro strip with a zipper underneath in the front of the unit that in case of an emergency can be used to drop the unit quickly.